A string of islands thrust up by volcanoes and scattered across more than 3,000 miles of ocean between Asia and Australia, Indonesia offers boundless opportunity for endorphin-soaked adventure. Of course, you'll need to turn decidedly off the beaten path. But for the discerning traveller, a muscular – and deeply sybaritic – paradise awaits.
Seismic activity from the region's "Ring Of Fire" volcanoes makes diving in Indonesia something special. Known as the Coral Triangle, the region is home to 30 per cent of the world's reefs, the most biodiverse waters on the planet and the raison d'être of Rascal, a 31-metre hand-crafted teak yacht, designed to voyage where other travellers are not. Her crew boasts a forensic knowledge of charted and uncharted territory – tell them what you want and they'll find it, sinking anchor in coves yet to be named on the map.
After sailing through the night, wake to watch the slow, thin dawn scattering gold across the water through wide windows on three sides of your king bed (by blending the elegance of traditional phinisi with a more contemporary design, her five cabins are above deck). And then let Rascal's resident divemaster lure you into the turquoise water.
Rolling backward off Rascal's Rib is to enter wonderland. The water is crystal clear. At Gili Lawa Darat Passage (east of Bali, not far from Flores) we saw reef sharks, triggerfish and clownfish – brilliant, clashing colours, electric greens and orange, the coral in wide heart shapes or tiered space stations; a cloud of seahorses; the Darth Vader-like cloak of a giant manta ray, floating past so close we had to resist touching him…
On dry land, the wildlife is equally extraordinary. Frightened sailors had for centuries whispered the name of Komodo in the Lesser Sundas to the east of Bali. In 1912, it was confirmed: the islands have dragons.
We went ashore with trepidation. At 200lb and more than three metres long, these squat beasts look slow and heavy, but when they hunt they can reach speeds of 13mph (a fit human adult sprints at around 15mph), knocking their prey to the ground with their whiplash tails, poisoning it with their deadly venom. With the dubious protection of two guides with forked sticks, we strode through their primeval kingdom, watching the flick of their yellowish tongues – which, at a distance, perhaps someone did once see as fire.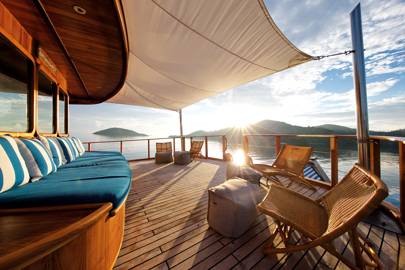 Rascal was built for adventures in Indonesia's far-flung islands
There are dragons too at the recently opened Capella Ubud, Balinese outpost of the garlanded Capella group. Mythical ones, at any rate, said to guard the sacred Wos River, which runs through the property.
And what a property. Designed in homage to the explorers of the 19th century, who travelled with a retinue of staff and a hand-hammered copper bath, it is a tented encampment. Every room, or "retreat", is walled with canvas. But mod cons include a four-metre-tall throne loo topped with an antelope skull, a hot tub and a private saltwater pool.
The vision of designer Bill Bensley, the 22 retreats are set into the edge of the Wos valley, among the thick emerald plants of the rainforest. Their views across the river are captivating by day; at night, the blend of burning torches and moonlight give the place an otherworldly feel.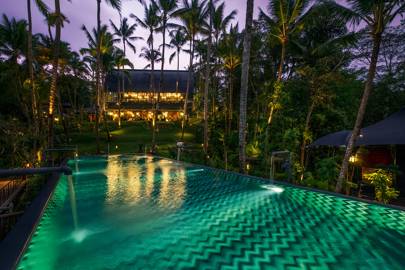 Capella Ubud is the group's new Balinese outpost
Here, your butler will take care of everything – from sourcing your favourite wines, to organising treks through the surrounding Unesco-protected paddy fields (alternatively, sally forth on the house Vespa). So why not have a bespoke training programme at The Armoury – the resort's tented gym – twinned with a seriously expert massage at the Auriga spa while your itinerary is being organised? Notably, Capella Ubud is hyper-local: the fabrics and art come from artisans along the Wos valley; the crayfish on the barbecue, or the pig roasting on the spit, are raised within a few miles of the property.
Another hotel that thrusts you deep into the heart of the place is Nihi Sumba. Sumba was long known as the forgotten island and with 600 acres of land, but never more than 80 guests, the hotel manages to maintain a rare and bewitching quality of escape.
It was this quality that attracted American retail tycoon Chris Burch, the ex-husband and former business partner of Tory Burch. With James McBride (a senior hotelier with experience at Grosvenor House in London and The Carlyle in New York), Burch bought Nihi Sumba in 2012. The pair poured £25 million into what was then a surf lodge, creating what's regularly crowned the best hotel in the world.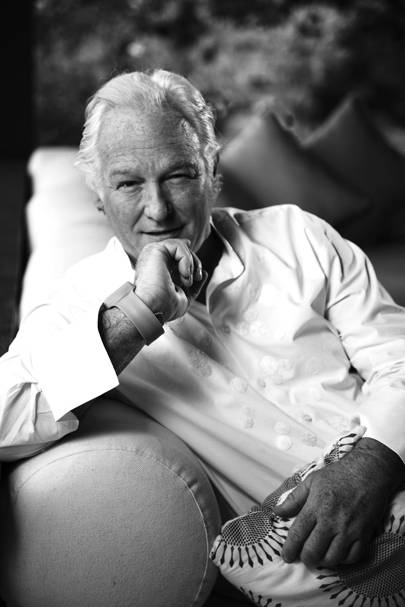 Nihi Sumba co-owner Chris Burch
The allure? Saunter down from your treehouse bedroom – a breezy circular space whose floor-to-ceiling windows look across to the Indian Ocean and which opens to its own private gardens – to pick up a beer at the bar. Then kick off your shoes, if you have any, and walk a few steps further to the beach, a mile and a half of deserted white sand. Here, you'll find the Nihiwatu rock, after which the hotel is named and where the island's Marapu gods are said to have descended. It does hold a kind of magic.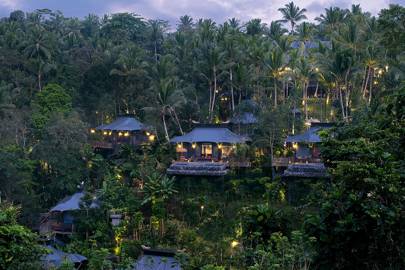 Capella Ubud's 22 'retreats' are set into the valley beside Bali's Wos River
Every night, wild horses emerge from the forests to gallop along the shore. You might ride out with the resort's Sandalwood Stables. Or perhaps choose to go at dusk to lift onto the sand the day-old sea turtles that Nihi Sumba release and watch as the tiny hatchlings waddle to the sea.
Maybe you'd prefer to try free diving to spear mahi-mahi, tuna and parrotfish. (I witnessed a ripped Californian real estate mogul unload a haul of 50 fish, including a wahoo the size of a bicycle.)
What really stands out, though, is the surf. Named after Australian surfer Mark Occhilupo, who rode it in surf movie The Green Iguana, "Occy's Left" is arguably the ultimate left-hander wave. Legendary for its power and length, it barrels for some 300 metres. Uniquely, there's no fight for your place in the line-up: the hotel owns the wave, and only ten people can book it per day. What's more, it breaks immediately outside the beach house and a deep gully makes paddling out easy (there's also a Jet Ski on hand should you fancy a lift).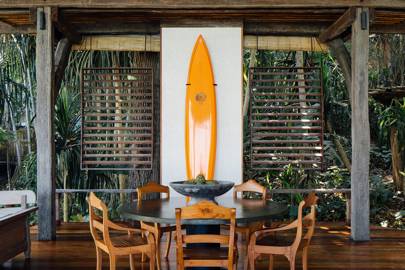 The former surf lodge-turned-oft described best hotel in the world, Nihi Sumba on Indonesia's 'forgotten island'
It's a must for any bucket list. I chose a board and headed out to try my luck. Two things were in my favour: quiet conditions (during the season, the waves are often double overhead) and the assistance of Hannah – a 24-year-old world-class longboarder and resident surf "guide". With a few key tips, and a few more wipeouts, at last I took off hard and steep down Occy's green face. Pure ecstasy. And entirely addictive.
Burch has worked hard to engage with the local community. With support from past guests, the Sumba Foundation has tackled malaria on the island, funding wells and education. Interaction with locals is encouraged and most guests go on a spa safari that starts with a dawn hike through the villages.
Tiger, a local tribesman, showed us altars wet from animal sacrifice, telling us about the annual horseback fight in which men injure each other to spill blood to boost the coming year's fertility and introduced us to tribeswomen weaving ancestral ikat fabrics. After the walk, we lay on clifftop massage tables with 270-degree views of rainforest fading to sand and brilliant ocean, not a soul in sight.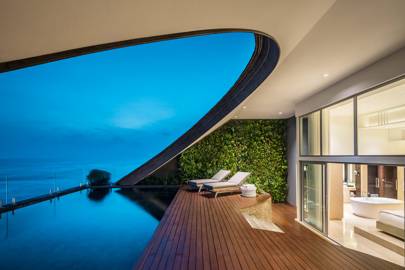 The private penthouse pool deck at Como Uma Canggu, Indonesia
If Nihi Sumba is a total escape, the newest Como property in Bali offers surfing with a helping of hip. Como Uma Canggu has nailed its location, a stretch of coast north of Kuta that's a less hectic and way cooler alternative to Seminyak.
Como Uma Canggu has also nailed the vibe at its shorefront Beach Club: mellow beats from the DJ, swinging daybeds, sensational cocktails and a glorious view of the swell.
This is the kind of dream surf location where you walk left along the beach for friendly sets coming in at Batu Bolong; turn right, and things get interesting at the famous Old Man's reef break. When you come in, simply lean your board on racks by the bar and order a tamarind margarita.
As in Nihi Sumba, the surf guiding is run by Tropicsurf. In the far quieter waters here, I taste what is effectively the private-jet version of surf instruction. My guide, CJ, rides his board beside me, demonstrating how my bent arm stance is a bit "T-rex", encouraging me to stretch and become that bit more "condor".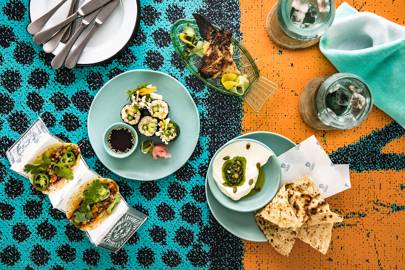 Como Uma Canggu's Beach Club fare
Should you travel with a non-surfer, there's the lagoon – a 115-metre saltwater pool into whose water the ground-floor suites dip their toes; there's also the kind of high-level yoga, gym and spa facilities for which Como is renowned. Frankly, though, they'd be missing out. Mere hours before my flight, I'm still in the water, CJ showing me how to grab my rail to turn hard into the wave. "That's it! You're pig-dogging!" Damn right I am.
Rascal, from £8,060 a night. rascalvoyages.com. Nihi Sumba, from £3,649 per person per week (including flights and transfers). 01494 678400. turquoiseholidays.co.uk. Como Uma Canggu, from £230 a night. +62 361 6202 228. comohotels.com. Capella Ubud, from £637 a night. +62 361 2091 888. capellahotels.com
Original article published in GQ, in January, 2019